How is Cataract Surgery Performed?
The team at Washington Eye Specialists performs traditional cataract surgery where incisions are made using ultrasonic energy to break up the cloudy lens. During surgery, the clouded lenses are removed and, in most instances, replaced with an intraocular lens, referred to as IOLs. Today, we are able to offer patients, a variety of options for IOLs to accommodate individual needs.
This method removes the eye's cloudy lens and replace it with an Intraocular Lens. Incisions in both methods are typically so small they do not require sutures. The team at Washington Eye Specialists will talk with you about which type of surgery is best for your specific needs.
Before Your Surgery
Before your surgery, our team will discuss various types of lens implants with you. How you see after surgery will depend on the type of lens implant used. It is vital that you discuss your lifestyle and vision expectations so that we can determine the right premium lens implant for you.
During Your Surgery
Cataract surgery is relatively "patient-friendly." It is usually performed as an outpatient procedure requiring only a few minutes. "Phacoemulsification" is the microsurgical technique used. It requires a tiny incision and breaks up the cataract with ultrasound waves.
Eye drops are applied for anesthesia.
The surgeon makes an incision and uses ultrasound waves to break up the hard, yellow proteins that form the cataract, leaving the lens membrane in place.
Next, a soft, flexible synthetic Intraocular Lens (IOL) is inserted into the lens capsule of the eye.
The lens is a permanent fixture that helps your eye to focus. You will not be able to feel or sense the implanted lens in any way.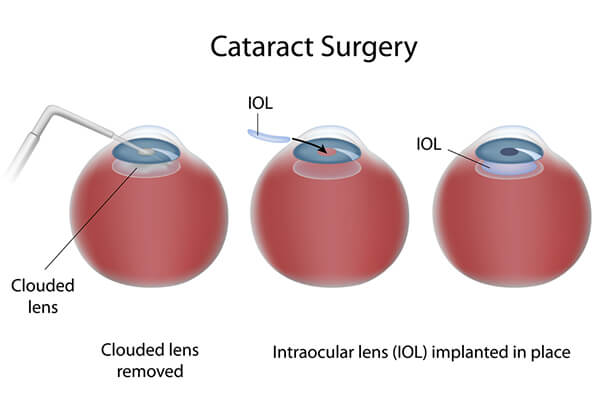 After Your Surgery
Because there are no needles or injections, only a tiny incision, stitches and an eye patch are not required after the surgery. In most cases, the incision is so small that the eye heals rapidly, with little or no discomfort, and the patient experiences a quick visual recovery. Patients can typically return to normal activities within a week.The following video describes some symptoms patients may experience directly after their cataract surgery.